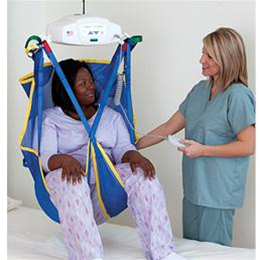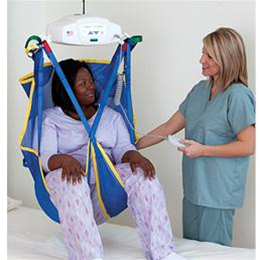 Designed for environments where the demand for higher weight transfers
are a reality, the P-600 encompasses a weight capacity of 600lbs.
Additionally, this portable ceiling lift provides an optional cart that
allows for easy and lightweight View more
Designed for environments where the demand for higher weight transfers
are a reality, the P-600 encompasses a weight capacity of 600lbs.
Additionally, this portable ceiling lift provides an optional cart that
allows for easy and lightweight transport throughout various rooms.
Prism Medical Canada's P-600 is battery operated and with its use of
nonproprietary batteries, the P-600 provides a more cost effective
solution to both, home caregivers and institutions. The innovative
design of its full-width carry bar provides a unique contoured shape,
delivering comfort to the patient throughout the entire transfer.
Additionally, the P-600 comes standard with a full range of features
such as on-board controls and emergency lowering. Its on-board controls
are complimented by a pneumatic hand control, further providing
additional control options for maneuvering the lift. Because the
pneumatic hand controls are completely waterproof, they offer superior
reliability for each and every transfer, including bath transfers.
Equipped with a digital display, the P-600 offers real-time feedback that
indicates battery life and offers a lift counter to indicate the total
number of lifts performed and when preventative maintenance is required.
Integral full-width carry bar
On-board controls
Charged with a standard plug and socket
Safety mechanisms: over-speed governor, built-in safety limits, slack strap sensor and emergency lowering
Positive locking latches
Articulating carry bar allows the lift to sit safely & upright on a cart for easy transport