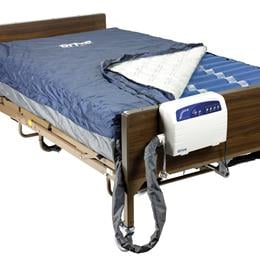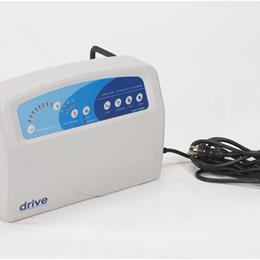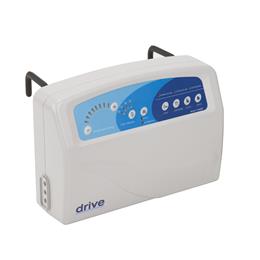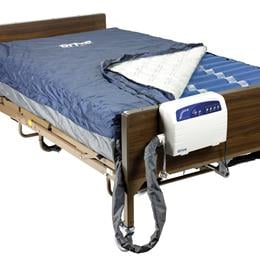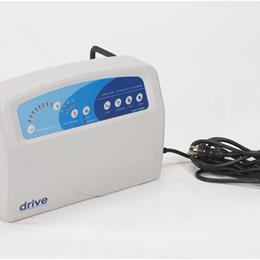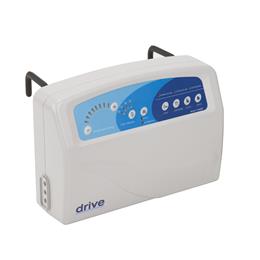 Product Description
The Med Aire Bariatric Low Air Loss Mattress Replacement System by Drive Medical is perfect for people looking for alternating pressure for Bariatric people. The alternating pressure View more
Product Description
The Med Aire Bariatric Low Air Loss Mattress Replacement System by Drive Medical is perfect for people looking for alternating pressure for Bariatric people. The alternating pressure system is optimized for pressure redistribution for people with up to Stage IV pressure ulcer, and thus was designed to prevent, treat, and manage pressure ulcers in a home, long term care, or acute care setting. The cell-on-cell design of 10" deep air cells prevents "bottoming out" which is when the patient would sink to the bottom of the mattress. The Med Aire Bariatric Low Air Loss Mattress even provides an additional 24 hours of use in the event of a power outage. The advanced digital pump allows for a custom setting which allows the individual to set the unit to his comfort and safety needs, and will even auto return to a alternating pressure mode if the system is left on static mode for more than 2 hours. The convenient cover stretches 4 ways, is low sheer, fluid resistant, vapor permeable, quilted and zippered. In the unlikely event that one of the 20 air cells malfunction due to a puncture, they are easily removed and replaced. The unit also has a pillow function allowing 3 air cells at the head of the bed to stay in a static mode for better comfort and easier sleep. The system has 3 distinct diagnostic alarms which tell you whether the problem is with the mattress or the pump allowing for easy and effective troubleshooting. Be sure to consider the Med Aire Bariatric Low Air Loss Mattress Replacement System for effective treatment and ideal comfort.
Features and Benefits
The product is designed to be used in the prevention, treatment and management of Pressure Ulcers
Mattress operates in an alternating pressure mode
Ideal for use in nursing homes, hospitals and home use
LED and Audible low pressure alarm activate when pressure falls below 10-mmHg
Cell-on-Cell design prevents the patient from "Bottoming Out" in the event of power failure
"Whisper quiet" pump produces 15-LPM (Liters per Minute) in air flow
Mattress has 20 air bladders
10" cells are constructed with Nylon/TPU that is soft, lightweight and will not stretch
Quick fill adapter standard
CPR valves provide fast (20 second) deflation
The zippered Nylon/TPU cover material is quilted, water resistant, vapor permeable and machine washable
Product Specification
Mattress (Width): 36.
Mattress (Length): 80".
Mattress (Height): 8".
Topper Material: Zippered and Quilted Urethane Coated Nylon Fabric (2-Way Stretch) is water resistant, vapor permeable, machine washable and low sheer.
Base Material: Zippered Vinyl.
4-Air cells at head section remain static to enhance pillow function.
Pump (Width): 14.2".
Pump (Height): 9.8".
Pump (Length): 4.5".
Power: 120 VAC.
Input Frequency: 60 HZ.
Pressure Range: 20 mmHg-60 mmHg (inner mattress pressure).
Auto Firm (60 mmHG, Auto return in 30 minutes).
Seat Function (Pressure preset + 10 mmHg).
Static Selectable.
Static auto returns in 2 hours.
Comfort Therapy.
Function Lock (Auto lock in 30 min. after on).
Alarm mute.
Low pressure alarm.
System (alternating) passive alarm.
Power failure alarm.
Low pressure alarm delay.
Memory function.
Air Flow: 12-LPM (Liters Per Minute).
Functions: Static and dynamic features .
Power Cord Length: 15 Ft.
UL: 60601-1, 1st Edition-2003.
Maximum Current: 0.5 Amps.
Model # 14048
| | |
| --- | --- |
| Product UPC | 822383118253 |
| Alergy | Latex Free |
| Product Installation | No Installation Required |
| Product Assembly | Basic Assembly Required |
| Warrenty | 18 Month Limited Warranty on Pump 18 Month Limited Warranty on Mattress |
| Weight Capacity | 750 |